Tools & results

The Adapt Northern Heritage toolkit consists of five tools to help understand better how climate change will effect northern historic places and explore options for what can be done to respond to this change. The principal tool is a guide for Assessing Risk and Planning Adaption, which is supported by publications on Adaptation Stories, Conservation Factsheets and Information Sources. The guide is for use by both conservation professionals and those involved in caring for a historic place. To support the risk management process described in the guide, workbooks and slideshow tutorials are also available.
The guidance for assessing risk and planning adaptation planning for northern historic places is the principal tool in the Adapt Northern Heritage toolkit. Published in PDF format, the guide describes a practical risk management process and is supplemented with a Workbook to create a Climate Risk Management Plan.
Four slideshow tutorials can be used as an introduction to the guide to risk management planning for historic places, as training material and as workshop aids. Compressed into a single ZIP file, the slideshows are provided in PDF and PowerPoint formats and complemented with a Stakeholder Workshop Workbook in PDF format.
The Adaptation Stories, Conservation Factsheets and Information Sources are three tools which supplement the Guide for Assessing Risks and Planning Adaptation but can also be used on their own.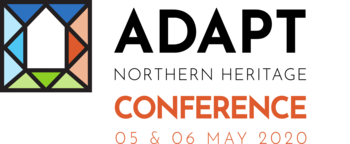 The international conference of the project Adapt Northern Heritage took place virtually on 05 & 06 May 2020, with 30 speakers from 30 countries. Concerned with climate change adaptation of historic places, the conference features keynote lectures from Europa Nostra and the UNESCO World Heritage Centre, two parallel themed sessions, two welcome addresses and a concluding panel discussion. The conference had four special foci: Arctic & Subarctic cultural heritage, the cultural heritage of northern indigenous communities, and northern UNESCO World Heritage. Most conference proceedings and presentation recordings are freely accessible.
The results of the virtual conference have been published as conference proceedings and video recordings of the presentations. Recordings of the conference live-streams are also available.

The Adapt Northern Heritage Forum is a network of public competent authorities concerned with the historic environment in northern world regions and supporting organisations. The Forum was established in May 2020 as a legacy surviving the project completion to enable knowledge exchange and expertise sharing with regard to climate change, historic environments, indigenous concerns, sustainability and Arctic and northern matters.